Construction Services in Saskatchewan
Collingridge Construction Ltd. offers a range of construction services and carpentry work for those in the Canora and surrounding areas. Check out our services below, and be sure to contact us to make an appointment for your next project today!
Commercial
For office buildings, industrial warehouses, and other commercial buildings, we offer a range of construction services. We offer landscaping for outdoor aesthetics, roofing for full protection, and snow clearing to ensure your employees and guests are safe on your property.
Concrete Floors
Concrete Flatwork
Precision Gravel Placing and Compaction
Concrete Piles
Concrete Grade Beams
ICF Foundations
Shops
Trench Drains & Drain Pits
Residential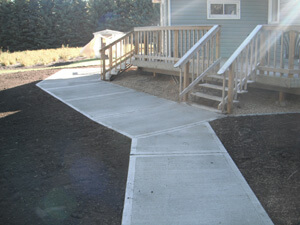 The services listed above (and below!) are available for residential buildings as well. We ensure your home receives the proper care to look its best and stand apart from your neighbors.
Framing
Siding
Shingle
Garages
Landscaping
Basements
Concrete Floors
Sod Installation
Decks
Patios
Fences
Basement Floors
Concrete Sidewalks
Gravel Driveways
Agriculture
We have experience with the agriculture industry as well. We build bin pads, farm shops, dug outs and we offer ditching. We also have skid steer, excavator and dump truck services available to ensure your agricultural operations can continue running as smoothly as possible.
Farm Shops
Pole Sheds
Lane Ways
Septic Tanks
Post Pounding
Bin Pads
Trenching
Old Building Tear Down & Removal
Hauling
Corral Cleaning
Concrete Floors & Driveways
Track Hoe Work
Excavating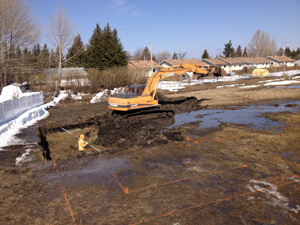 We are experienced and qualified. We own a 36,000lb excavator. Some of our excavating services include: digging basements, shallow wells, taking out beaver dams, trenching, demolition, heavy lifting, and installing or replacing septic tanks and septic systems.
Snow Clearing and Removal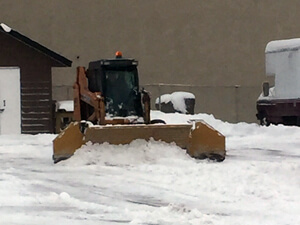 We remove snow from commercial and residential parking lots, walkways and driveways. As well as agricultural and farm laneways. These services ensure you, your guests and anyone else visiting can arrive and depart safely.
Roofing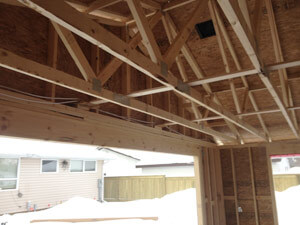 Our roofing services are available for many types of roofing. We offer shingling and steel roofing for both new and existing buildings. If you need roofing, we've got you covered!
Landscaping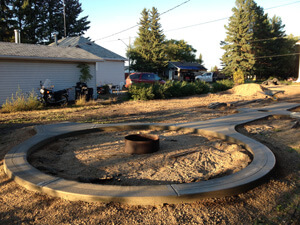 At Collingridge Construction Ltd. we also have landscaping services available. From shaping your clay, topsoil or aggregate landscape to tree and shrub removal. We also offer grass seed planting and sod installation. Our excavator, skid steer with many attachments, dump truck and smooth drum packer will help us get your job done!
Skid Steer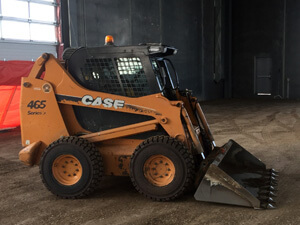 Our 10,000lb skid steer comes equipped with many attachments including:
Auger (22ft deep drilling capacity)
Grapples
Concrete breaker (Jack Hammer)
Trencher
Snow Bucket and 12ft snow wing/blade
Forks
Dirt and gravel digging buckets
No job is complete without a skid steer!
Dump Truck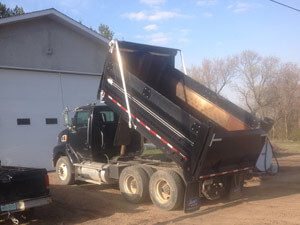 Whether you need materials to or from your construction site, our fleet includes a dump truck to get your job done. We will make sure your materials, unwanted or not, will be safely moved from one place to another.
Compaction Equipment
Our 11,000lb ride-on vibratory smooth drum and 1,000lb walk behind plate tamper can handle all of your clay and gravel needs.
Concrete Equipment
While we specialize in large commercial concrete flatwork, we also do the small jobs. From lazers and vibratory power screeds, all the way to high-end ride-on power trowels, we have the professional equipment to place and finish your concrete flatwork projects.
Pre-Engineered Metal Buildings
Telehandler
A Framer's Best Friend. With capabilities to lift 10,000 pounds, reaching over 55 feet and our 18 x 5 foot platform, this is one dependable machine.